Remembering the AvoHa Classmates of 1959 and the Communities of Avoca/Hancock
As compiled in 2017
Minor Updates Jan 2019
Preface
The classmates of AvoHa and the graduating class of 1959 provided the rich remembrances in this document. There are fewer classmates all the time and this is attempt to gather the little nuances that were remembered after all these years. The remembrances are presented in the chronological order of their receipt.
Carolyn (Chris) asked me to solicit, edit and compile the input. I have to admit that in the first few weeks I received nothing and hence just started writing. You may omit my rather long section without prejudice.
Thanks for all the input.
Larry Krummel
AvoHa Classmate Directory
Carolyn Christiansen has assembled a list of classmate contact information.  To get access, please contact Larry Krummel using the contact link at the bottom of this page and ask for access.
Downtown Avoca Today (courtesy of cityofavoca.com)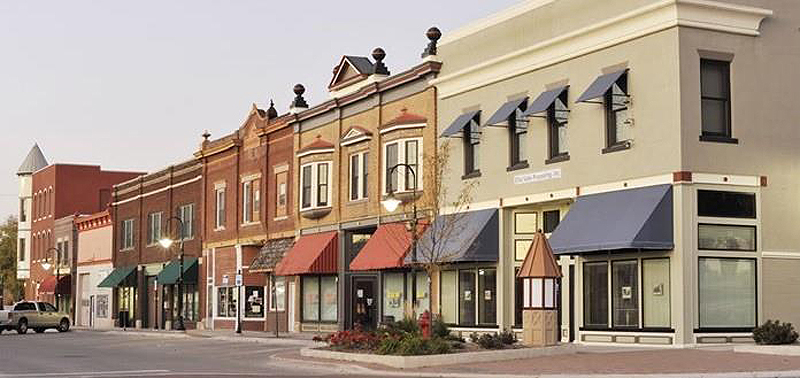 AvoHa School 1950s Courtesy of Barbara Haller Butcher, from Schools in Avoca, Iowa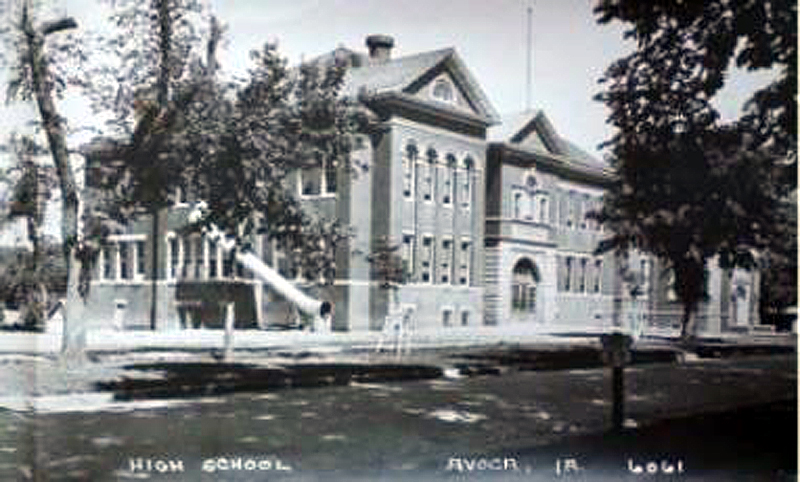 Avoca, Iowa - Map Courtesy of MapQuest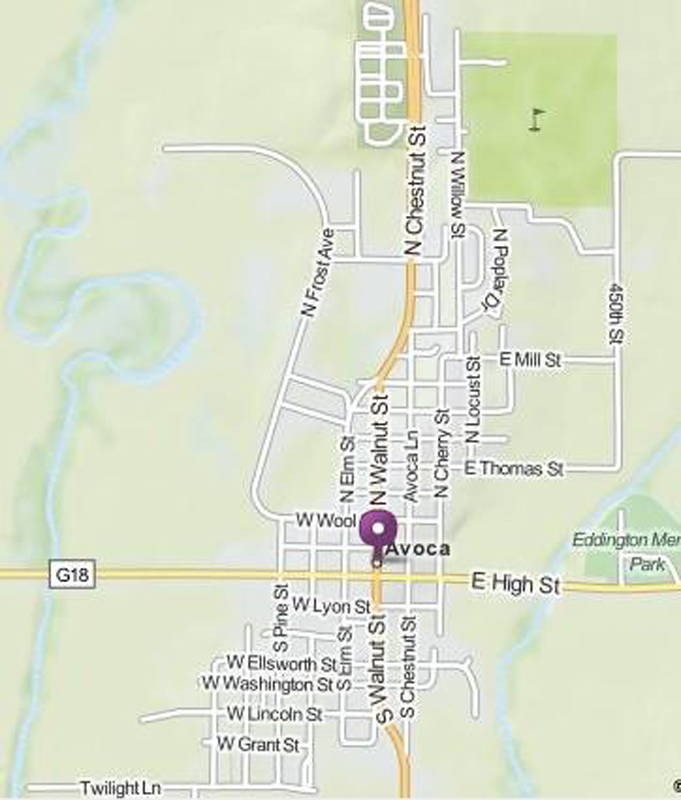 Avoca and Hancock Merchants Who Supported the 1959 Yearbook
SINCERE THANKS TO OUR YEARBOOK ADVERTISERS! The following business firms bought an advertisement in our A.H.S. Blueprint: AVOCA MOTOR CO. AVOCA COLD STORAGE, AVOCA DAIRY, JACK'S STANDARD SERVICE, VIRGINIA BAUGOUS'S BEAUTY SHOP, VERA'S HOUSE OF BEAUTY, JORGENSEN'S FEED & SEED STORE, WENDT PRODUCE, OLSON CLEANERS, PETERS D-X SERVICE, FARMERS CO-OPERATIVE CREAMERY ASS'N., AVOCA IMPLEMENT COMPANY, ZIM & PASH OIL CO., HILEY'S FEED & PRODUCE, LUDWIG ROEMER SHOE STORE, HERRICK'S HATCHERY, PETERSEN GROCERY STORE, STEMPEL IMPLEMENT CO., CHURCHILL BLACKSMITH SHOP, CHATTERBOX CAFÉ, BRANDES TRUE & SCHRIEFER, THE AVOCA STATE BANK, DIME AND DOLLAR STORE, AVOCA BOOTERY AND STYLE SHOP, RAYS SHOE STORE, CRAHAN DRUG STORE, AVOCA LANES, BROWN OIL COMPANY, FRANK DOLL INSURANCE AGENCY, RONNFELDT HARDWARE STORE, KRUMMELS, SCHUSTER DRUG STORE, RUBACK SUPER MARKET, TROLL & HOLTZ TV, J & W HARDWARE STORE, BERTHUSEN FURNITURE, BLUST-BERTHUSEN FUNERAL HOMES, AVOCA ALFALFA MILLING CO., PIITTMANN-SORNSEN SEED CO., PETERSEN CONOCO STATION, BENDER NURSERY AND FLORIST, THOMSEN OIL CO., SEIFFERT LUMBER CO., WESTERN AUTO ASSOCIATE STORE, HENDERSON GROCERY, EBERT OIL COMPANY, EVERHART IMPLEMENT CO., ZOBRIST TRUCKING SERVICE, P. & G. ELEVATOR CO., GREEVERS CAFÉ, HANCOCK FROZEN FOOD CENTER, SOUTH ELEVATOR, INC., HANCOCK OFFICE OF THE AVOCA STATE BANK, DON'S REPAIR SHOP, AVOCA AUCTION COMPANY, UNITED TELEPHONE COMPANY OF IOWA, IOWA POWER & LIGHT CO., DAIRY QUEEN, DR. L. A. PIPER, CHIROPRACTOR, CITIZENS SAVINGS BANK, OLESENS CHEVROLET AND OLDS
Sally Rock Remembers
Squirrel Cage Jail
Let's start with the squirrel cage jail, which has been moved to Co. Bluffs, then head to the courthouse with the cannon in front. The side yard there was used for summer concerts/baton twirling expos. Cross the street to the old hotel where you could catch the bus to Omaha. Go on down past Heesch's shoe store, Kinkel Haberdashery, Healy sister's dime store, Wyland and Rock law office, Pittman/Hinz grocery store. Alma Pittman made my wedding cake. When dad died, Wyland pulled strings to get Willie home from Germany, where he was serving in the army. Meyer Ruback had the grocery store at one point.
Avoca Lanes
Cross the street to the bowling alley run by Don and Hattie Larimore. At one time there was a jewelry store nearby. Shilling's Cold Storage where you could buy three pounds of hamburger for a dollar. I distinctly remember their bloody aprons! Jorgensen Feed and Seed, Buckner's Hatchery, Schuemann Trucking, Rock Hardware, which also sold furniture, and people stood outside the front window on a Saturday night to watch the TV. The store was sold to Berthusen. Our little red house was purchased from Buckners. The Avoca Creamery had excellent butter!
Green Rivers, Chocolate Cokes, Lemon Phosphates
Neiman's Tavern, Crahan Drugstore, later Grulkes, where we had green rivers, chocolate cokes, lemon phosphates. Myrtle Lyon and her hubby had the Bootery, and I always looked forward to the big summer sale. Louie Roemer had the shoe repair shop where he charged a dime for most things.
Arthur Murray Dance Lessons
I can't forget the Chatterbox and Dairy Queen. Anyone remember the Arthur Murray dance lessons? My usual partner was Richard Gardiner. Then there was the Avoca Swimming Pool and Edgington Park. Before the pool, we had to swim in Harlan.
Other Businesses
Ronnfeldt Hdwe., Mez Implement, Charlie's Barber Shop, and the Avoca Theater where we could yell for Earl to wake up. The ticket booth (Sutton Sisters) had a list of birthdays so they knew when to charge you more.
Mom went to Vera's Beauty Shop to get her hair done, doctors were Huntley and West, dentists were Grulke and Reinert.
Now Avoca has a flower shop, dollar store, and new motels on the hill, grocery store on the flat by the mortuary. Churches were Lutheran, Catholic and Presbyterian.
Peter's bros. gas station, Olesen Chevrolet, Krummel Cafe, and what was the name of that steakhouse where you had to go down a bunch of stairs?
I keep thinking of things I forgot to mention like Woltmann's Heritage Cafe and the Wedgewood Tea Room just west of Lyons' Bootery. Women played cards and had dessert there when they didn't feel like cleaning their house. Ha ...I think the dry goods store was by the liquor store at one time. It sorta runs together in my feeble memory.
And let's not forget the Acova Ballroom where we did the polka!
I thought of Ronald Johnson and the Avoca alfalfa mill, john Sondegard (sp) for the car place, Howard Lyon, Les Berthusen, Jack Wyland, and Duane Grulke for first names. I'm sure I've left out some important stuff, age could be a factor.
Ann Gronborg Remembers© 2017
Country School
Before AvoHa, I went to Knox Township Country School. It was located east of town.
Scandalous
I went home on the bus so don't have many "stories". A few bus trips to football games & the basketball girls getting to go to Des Moines for the state tournament. I also remember the infamous slumber party at Judy's. That was "scandalous" because the guys were at Van Winkles. Mom had heard about it before I even got home. I think I remember shrugging & saying something about it not being too bad as the police had not been called.
Our class has always been a "together" group. Mr. Wilson told my mom some years later that the class of '59 was unique in his career. Wherever one showed up, most of the class would follow. I cherish these relationships yet.
Sharell Fischer Remembers© 2017
Gene thinks steak house in the basement was called the Sirloin Cellar—but maybe that is the name it was referred to by out of "towners".
Sharon Krohn Remembers© 2017
I was born and grew up in the house that my German grandfather build on the farm where he lived from 1906 until his death in 1947. I went to a one room country school until high school; there was only about a dozen kids who attended. All of our playground equipment was made from the wood of the nearby timber. We made up our own games and rules as we went along. At Christmas time, we put on a play for our parents and we were so proud and thought that we were really good, but in reality, we were very bad. But it didn't matter because our parents were so appreciative.
First Day at Avoca
The first day that I attended the Avoca High School, it was such a shock to see so many students (I didn't know anyone in my grade) and so many different rooms. It was so much fun that first day trying to figure where the different classes were. When I went to the library, I was overwhelmed by all the choices. The guy that sat behind me in study hall was constantly writing on my back and I was in trouble all the time because when I turned around to tell him to stop - I was the one who was caught. Besides being in trouble at school, I was also in trouble at home because it upset my mother. I was also in trouble in science class because it seemed like I was always getting caught passing a note for someone else. Speaking of science that reminds me of when four of us blew up the chemistry lab! The final thing that comes to mind is when about a dozen senior girls walked out of study hall on April fool's Day after lunch on a challenge from the guys and then we goofed off the rest of the afternoon.
When I went to High School, riding the bus was a new and exciting experience! It was fun being with all the kids, laughing and carrying, we had a great bus driver. The boys even taught me how to play poker because I was one of the last ones off.
We had youth gathering at the Lutheran Church on a Sunday night and after it broke up, a group went out to a watermelon patch. Some of us were almost caught. But the farmer recognized some of us and called our parents. My parents were not happy! I don't remember what happened after that.
Judy Jorgensen Remembers© 2017
Watermelon Raid
A watermelon raid after play practice (Jr. or Sr. year). Whoever heard of a caravan to the country for such a dastardly deed? Probably a one-time event!!! PS: no watermelons!!
What I recall is after play practice, it was probably fairly early in the evening and no one was ready to go home sowhat better to do than go find some watermelons to steal!! Think it probably ranks up there with those things that seemed a good idea at the time! As I recall we (don't remember how many cars, but several I think) all headed east to the first four corners (I think). From there we headed south for a ways and the chosen spot was on the east side of the road. My memory seems the patch was not right by the road, but a little ways into the field. Not sure we even made it to the watermelon patch and also don't recall what alarmed us to run, but everyone suddenly headed back to the cars. I remember someone joking after that my long winter coat was flared out behind me because I was running so fast. Alas no watermelons, but just another of our misadventures! I'm sure glad we have these memories to share and/or compare.
Doc and Emery singing "I'm Walkin'" in front of the whole assembly.
Teacher Parade
Mrs. Nelson/Mr. Parnham/Mr. Ashley/Mr. Ulin/ Mrs. White/Mr. Beasley/Mr. Lake/Mr. Baugous/ Mr. Wilson/Mr. Willsie/ Mr. Mulligan/……and in our younger years …Miss West/Mrs. Allen/Miss Cedergren/Miss Hamen/Mrs. Wunder/Miss Hilburn/Mr. Crawford/Miss McCosh in our younger years. I specifically remembering her stabbing Doc with a pencil.Horrified.
The guys putting Mr. Parnham's Volkswagen Beetle on his porch steps. Hope I didn't dream that!!
Mr. Willsie's science class' excursions to search for elms infected with Dutch Elm disease. Ironically he was way ahead of his time in this search as so many of our beautiful elms were destroyed by this disease.
Freezing Jello in Miss Bintz/White or White/Bintz' Home Ec class when it wouldn't gel. Not good when served on a plate with hot food!
Mr. Wilson's "reigning" over our assembly from his desk at the front and his walking patrol around the perimeter and the hall.
Mrs. Simmond's history class
Our hot lunch room and cooks….loved the goulash!
Displaying a mannequin on a table in Floyd Hayhurst's janitor room.
Our big assembly room with the much anticipated annual move closer to the windows.
Fire escape drills. The chute off the science room and the wire one off the English room.
Bus trips to Des Moines for the State Girls' Basketball tournament. Eating dinner in a "fancy" Italian restaurant
Beating the Oakland girls' basketball team and getting to go to the Sectional Tournament
Letter jackets
Going steady rings/class rings
The "Genius" class
The kids from Hancock joining the class in our freshman year
The hall full of lockers on marble (I think) floors
Floyd and Midge Hayhurst, our great and fun janitors
Earning letters for basketball, etc participation
When girls' basketball was half court and you were only allowed 2 dribbles
The narrow free throw lane
When we were the Bluebirds
Co-Ed bus trips to basketball games…some of which were all of 6 miles!
Many of us senior girls skipping school and feeling quite "cool" while spending the afternoon at Sal's house until….realizing that many of us had to be back at school to catch the school bus to get home. Unexcused absences all around the next day.
Mine and Sal's slumber party. Did not realize until much later that it became so scandalous. Have no idea how that came about because it was actually quite innocent….at least as I remember it. Course, I guess, Doc having a slumber party for the boys the same night might have been a contributing factor!
Of course, there are memories of our home town…. like when the Anderson family donated land east of the river but it did not seem that it could ever be a park. BUT…today the swimming pool, baseball complex and park areas are truly beautiful ….that proverbial pig's ear becoming a silk purse! Sadly, some of our "landmarks" are gone. The school where we shared our growing up years, our English Lutheran Church, the Chatterbox, Grulke's Drug Store, the Dairy Queen, the Parkway, my grandpa and dad's Jorgensen Feed Store, Holtz's Pontiac, the old grocery store. Which I grew up calling the "Juice" store. Only much later to learn they were saying "the Jew's store". Mr. Ruback, I think. I remember Trout's, Kenkel's Haberdashery, Mayland's Variety. The 2 banks at the end of Main Street across from each other. Henderson's (I think) Barber Shop. Also Carl Tanke's barber shop. With trepidation…..Grulke's Dentist office. Rock's, then Berthusen's (?) Hardware Store. The Journal-Herald office. Larry Krummel's parents café (remember the juke box in the back). The State Liquor store on the corner. The movie show and Earl and the Sutton sisters. Sweden Crème at the Chatterbox. Heesch's shoe store, Crahan's, the old Post Office with the little mail boxes, The Wedgewood (always a mystery to me). Wunder's had a hardware store next to the post office I think, Troll's Appliance shop on the corner. Ernie Grulke, our town cop. My uncle, Harley Applegate, waving from the Water Plant; the old viaduct, the bowling alley, the alfalfa plant and trucks, the dump.
Anonymous Remembers
Going to the Harlan Drive-In with two in the front seat..five in the trunk.
Stealing watermelons when the season was well over and have a farmer run from his house yelling and firing his gun in the air (I think it was in the air) and probably going back in the house chuckling at some silly kids.
Entering an abandoned farmhouse (which was still furnished, calendar still hanging on the wall) and having the same thing happen (farmer, yelling, gun). Perhaps it was the same farmer's place.?
Going bushwhacking for unsuspecting couples only to find steamed-over windows allowing extremely limited vision.
Going steady meant wearing his class ring wrapped with embroidery thread to make it fit your finger and then putting coat after coat of clear fingernail polish over the thread to keep it clean.
Rolling your bobby sox down like your ankle was wearing a donut…or maybe that was a good way to use your sox when the elastic was pretty much gone. And in that case you next resorted to keeping your sox in place with the help of a rubber band.
Those crazy 'steadies' wore matching shirts.
That walk across the front of the assembly to 'sign in' had you wondering if your slip was showing or maybe you'd tucked your skirt into your underwear. Remember what a 'slip' was?
The sock hops and the girls occupied the south side of the gym and the fellas took their stance on the north side.
Having Mr. Wilson show up where you shouldn't be. Never good.
Flying out the end of the tube fire escape and hoping there'd be someone there to grab your arm as you exited.
An explosion in the Chemistry Room.
Ducktails on the guys if they were 'really cool.' Or there were flattops forced into attention with some pink gunk. Aqua Net hairspray for the gals and hair rolled on the ends like little sausages.
Crinolines under skirts and the fuller the better, shirt collars standing tall, autograph books, exchanging class pix with messages written on the back that in 20 years you'll have no idea what's being talked about, we were the Bluebirds, boys' basketball shorts were extremely short, and the last day of school was the class picnic and peanut butter sandwiches never tasted so good.
All such good memories. Feeling blessed to have grown up at this time and in this place!!!
Reno Walker Remembers© 2017
Originally From Shelby
I was born 12-15-1941 at Jenny Edmundson hospital, Council Bluffs, Iowa. The first of five children. I lived in Shelby Iowa until the eighth grade. I contracted a severe case of rheumatoid arteries in the fifth grade and spent a long time recovering. After recovering I had a great time. No traffic to worry about. A paper route to manage. Horses to care for. Wonderful neighbors that looked after us. Plenty of room to build forts and to hide. My dad was an attorney and after my eighth grade he and mom decided to move from Shelby County to Pottawattamie county and we left Shelby and moved to Avoca.
Pork Chop
My first recollection of Avoca was that our dog "Pork Chop" decided not to move. After leaving our new home one night he trotted back to Shelby where everyone knew him. Dad got him back and put him on a farm. The farmer knew his desire to live in Shelby so he used a two inch hay rope to tie him. After several hours of chewing Pork Chop trotted back to Shelby. He lived out his days laying on the cool marble floor of the bank and drinking malted milks provided by the banker and others.
Buttermilk Flat
In Avoca we lived in a wonderful house on Buttermilk Flat that was built by a German builder during the war. A large yard with hedges that I spent many hours mowing and trimming. Every window was hand built so each one had to be numbered to make sure we could get the right storm window to fit in the fall and the right screen to fit in the summer.
It was about a mile or more to walk to and from school. I was in the freshman class. An interesting walk. I went past a home where the owner still had draft horses in a small barn next to the house. He used them to do hauling jobs around town. I was told he was very mean to the horses and only fed them when they performed well. Nest I would walk past the home of an upper classman that had a pen of exotic golden pheasants. Very nervous, but pretty. Up the hill to school. Our class included those who came town school for the first time from their one room schools. They were the best students and a very good example. I remember some of our town classmates disrupting class and causing a pretty young first time teacher to cry. Not much else recalled about that year. Superintendent Rutenbeck was principle when my three uncles, one aunt, and my dad graduated from Avoca high. Then I, two sisters, and one brother graduated under him. My grandmother told stories of problems her sons caused Mr. Rutenbeck that she had to travel to his office to take care of.
I can't recall what years we were in, but I took Latin from I think Mrs. Green. Very little remembered since it was already dead, right. Best class I took was typing from Mrs. Bender. As everyone will remember I was not good at chemistry. Poor Mr. Willsie tried his best to explain the atomic table and other laws of nature that we needed to be aware of, like certain elements should not be mixed. After many years Mr. Willsie got an upgrade to his classroom. Rows of tables with sinks and gas burners with nice florescent lights hanging from the ceiling. The day that we all remember, Mr. Willsie taught us about various chemical compounds and when mixed created new compounds. He had placed small bowl of each compound on a table and asked us to pick up a sample of those we wished to work with to show their interaction. I had no ideas which compounds should not be mixed and so for our table I picked iron oxide, potassium chloride along with others and brought them back to the table. Franny Wise placed a small amount of the ingredients into a pestle, and with a mortar began to grind them together. The instant he started there was a violent explosion. The mortar put a three inch hole through the one inch slate blackboard, the overhead lights were destroyed with glass all over the classroom. The two entrance doors to the classroom were blown open. Franny Wise wore a ring that had to be cut off his finger. His eyes were full of debris. Sharon Krohn was cut on her cheek and lost hearing in one ear. I lost hearing in my left ear. I am not sure if Mr. Willsie ever fully recovered. I hope they did not blame him.
Once I was able to drive it seemed like adulthood began to come into focus. Paying for gas and tires required an income. Jobs in the summer working for the local farmers, working as a truck driver for Schuman, working as a helper for plumber Harry Bledsoe. When there was some money, I would attend the Saturday night dance at the sale barn. After games going to the Chatterbox for a pork tenderloin sandwich with a piece of cherry pie and soft ice cream.
Surprise—College
In those years I did a few things I am not proud of. One night I and a couple of others snuck into principle Wilson's garage and let the air out of his car tires. Since I was not a good student, after graduation I wanted to hang around town and work at local jobs. One day dad and mom told me to get into the car for a drive. They said they had a college they wanted me to visit for a look. After arriving I said I have looked now let's go back home. They said wait one minute and they parked the car and opened the trunk and took out some suitcases and set them on the curb. As I stood there watching all this, they got back into the car and drove off. And the rest is history.
I remember my folks were left several big boxes of large records that were about 1/8 inch thick. I believe they were to be played on a windup player with a big horn as a speaker. We did not have the player so mom put many of them into the oven and when they were soft she molded them in trays or planters, or bowls, etc. Sorry now they were lost. Our first refrigerator was a wooden one that a block of ice was placed in the bottom. We had it on the porch so ice and milk could be delivered. Mom was tight so she bought margarine and powdered milk. When I saw her take out a large block of white grease and put it in a bowl and then pour in a packet of yellow stain and mix until the grease turned yellow I got the impression there could be health effects from this stuff. Even worse was the powdered milk. Even if one were to mix the water and powder to perfect proportion it did not taste as good a real milk. Add the usual conditions of not being cold, and lumpy, and it was a hard drink to get down. Spam was cheap and a regular at meal time. My grandfather retired from the farm and continued to garden. He lived in a large house near the railroad tracks on a lot that had been a dump for ciders from the steam engines. We still had a regular steam engine traveling back and forth from Chicago to Omaha. At night when we were staying in the house after the whistle woke you up you could feel the big very heavy engine pulling mostly mail cars come past the house without slowing down and everything would shake as it passed through. Since my grandfather had poor soil on his lot he borrowed small plots from farmer friends where he grew watermelons. Many, many, many watermelons. He would store them in the basement in huge piles. The nursing home and other boarding homes would receive a lot of watermelons. At family gatherings we ate as much watermelon as we could just to reduce the inventory.
Sausages
On Fridays, dad and I would go to shillings meat market and buy a few large round sausages. They would be cooking in hot water in a big black kettle. Mr. Shilling would pull out two or three still hot and dripping with grease and wrap them in butcher paper. Before leaving the store we might have a slice or two.
Sort of a Bank Deposit
On more than one occasion mom would forget to put the car in park. On one such occasion she had angle parked in front of the Citizens Bank. After getting out of the car it rolled forward going through the front of the bank and into the lobby. After everything was cleaned up she was trying to find a way to express her regrets for such a mistake. Finally she decided to bake several of her apple pies and took them to the bank for the employees who had been so traumatized by the event.
Sandy Horst Remembers© 2017
Ruback's Market
I'm not sure of the name - it may have been an IGA but it was above the bowling alley. My uncle, Melvin Horst, was the Manager. A couple of times a year, they would have a large, black woman dressed as Aunt Jemima and she would serve free pancakes to the customers. We loved her and she had a smile for everyone.
We girls in high school sent for live chameleons through the mail. We would tie a string around their neck and pin it to our sweaters or blouses and wear them to school.
Coca Cola sent a truck from Atlantic where they bottled it to AvoHa high school in the summertime. Free cokes for everyone. My uncle, by marriage, was the driver.
The "tube" fire escape. When we had fire drills, Floyd Hayhurst and one of the male teachers would be on each side of it and catch our arms as we came out.
Jan (Sandy's sister) and I set pins at the bowling alley, as well. For some reason, I associate the bowling alley with the song "The Green Door". They must have played it quite often on the juke box.
The Avoca Theatre which was run by two sisters. Admission was 10 cents for anyone under age 12. When I was 16, the ticket taker sister asked me if I wasn't older than 12. I admitted it and from then on I had to pay 25 cents. Back then, they had the projection room upstairs in the back of the theatre. Earl Ketchum ran the film and every once in a while, the film would break. We would all chant "Earl, Earl, Earl" until he finally got it repaired and the movie continued.
Avoca Alfalfa Mill
The mill was owned by Ron Johnson. Doc and Ed Hayhurst worked there a couple of summers and my dad was their foreman. Mom used to fix dad hot lunches and Jan and I would walk them across the railroad tracks to him.
Dianne Heesch Remembers© 2017
Does anyone else remember the day in science class with Mr. Willsie when Doc was busy with his antics and Mr. Willsie said "Mr. Van Winkle if your IQ were one point higher, you would be a vegetable" to which Doc replied"And I have always liked you, too, Mr. Willsie."
Gary Fell, my future husband, has always said that when the explosion in the chemistry lab took place, the guys in Walnut somehow heard about it within a very short time and had a great time talking and laughing about it.
I remember Doc saying his Mother would sue the school for him being injured in the pin stabbing and then turned to Sharon and winked!! Sharon told me many times that she loved Doc from the first day he walked into the school. They remained fast friends forever.
I could write a book just about Sharon. I remember she was so weak and small she could not write a bike but her father got her a fancy new bike and he walked up and down the block to steady her. We would meet at her house across the street from the school at lunch time for meetings of the club she started...get this..."The Pleasant Pheasants Pals".
I still have my club book!! That was probably about 6th grade.
Carolyn Christiansen Remembers© 2017
Meandering Musty Memories
Let me preface the following remembrances with the disclaimer that all or parts of them may or may not be false.
Movie Theater.
During our junior high years, the theater in Avoca was the place to meet our "special person" of the day or week – maybe even a month! The darkness of the theater provided such good cover for holding hands. Ah, sweet young love. I'm not sure how much all that pleasure cost but it seems to me that it was less than 25 cents-- and that included the popcorn sold by the Sutton sisters. We seemed to take special delight when the movie flickered or stopped for a spell as that was our cue to turn around and shout "EARL!" at the projection booth. Earl always obliged our loud pleadings and soon the movie was once again running. Just, perhaps, because we woke him up????
Pittmann's Super Valu
John Pittmann opened his new store just about the time we graduated. Hack and Jean Schmitt were his able lieutenants. Ann (Gronberg) Roof and I both worked there the summer of '59. 75 cents an hour, no less! Denny Kaven and Keith Fiscus, younger AHSers were also employed there. What a store it was for a small town in the late 50's – so big, such varied foods for sale. I spent considerable time as a check out person, but my fondest memories are working in back where fruits and vegetables were prepared for display. Many of these were wrapped in plastic that was sealed by running the ends across a hot plate – or maybe we used a hot hand-held device. Anyway, this sealing was something rather new for Avoca. This task fell mainly to the four youngsters [perhaps there were more] and we found much happiness in our interactions with one another.
The Kissing Club
I believe it was fifth grade when some of our male classmates plus a couple from AHS '58 ran a kissing club out of an old garage behind the school. Though there were others involved, the only two people that I remember being there are Dianne (Heesch) Fell and Ronny Woltmann. Someone [could have been me] told Miss Heyman, our fifth grade teacher, about this extracurricular activity and the club was rather quickly disbanded. That was my first experience with being kissed on the lips.
Detasseling Corn
What a rite of passage for many mid-teens in rural Iowa. Heat. Humidity. Mud. Bugs. Itchy things under your clothing. 50 cents an hour. Actually, I thoroughly enjoyed this experience during the summer before my senior year, and that was likely due to the fun nature of the crew. Both Theota and Carolyn Wise come to mind as being crewmates.
April Fool's 1959
The senior girls' April Fool's joke of skipping school in the afternoon is well known. This is about my parents' reaction to that joyful adventure. My mother wrote a note: "Mr. Wilson, I hope you will excuse Carolyn's skipping school yesterday afternoon though it was not a very funny April fool stunt". With a dark pen, the note is marked Unexcused followed by the initials MHW. The penance was to make up the time missed by staying after school for three days. My father would not pick me up but rather I was to walk home [3 miles via roads] each night. Since walking on the highway was not something I wanted to do, I headed west cross country each night, crossing the railroad bridge over the Nishnabotna and making my way over numerous fences, many with barbed wire. The first evening I did this while wearing one of those preposterous starched crinoline skirts that stuck out at least 4 feet [or so it seemed] around me. The last two times, I learned to take the crinoline off after I got past The Flat and put it on before I got too close to home. Overall, the walks home were a most unpleasant experience.
Hazel How Remembers© 2017
 I recall many fun times playing on the various cannons that were in front of, and nearby, the courthouse. The big white billboard behind the cannon had my English great-grand fathers name (Francis How) in tribute to his service to the Union Navy during the Civil War. I also recall the time Dwight Eisenhower passed through Avoca by train while on his campaign trail. My Dad and I went down to the Avoca depot to wave at him as his train quickly passed by us. Among my treasures is my "I Like IKE" button from that era.
I spent many hours with my father who worked at the state run liquor store. He helped me solve many a math problem in the back of that store. I thus got to know many of the town "characters" as my Dad was a friend to all and loved to talk to people. I could write a short novel about those town "characters", but will put them in my future memoirs instead. They probably wouldn't be of interest to many other people.
One last event was going up to Corley, Iowa on a summer evening to watch "Ma and Pa Kettle" movies shown on the side of a grain elevator - that was a BIG deal for me! -- Eat your heart out Hollywood.
Everette Carroll Remembers© 2017
Country School
Everette attended country school for 9 years before going to AvoHa town school.
Steak House
The steak house in the basement had Larry Miller's brother Don as at least partial owner of the steakhouse. Larry's mother was a cook. Larry Miller played guard when we were juniors and played guard and tackle when we were seniors.
Football is all in the Smell
The football team walked from the school to the field for practice. When I was a sophomore the only pants that would fit was one of Coach Wilson's. We loved to play at home because the smell of the alfalfa plant would come over the fields. Since several of the team worked at the plant the dust didn't bother us. The visiting team didn't care for the smell. Home field advantage!
They Who Served
If I have my information correct three of our class were in the armed forces. Jim Cave was Regular Army. Franny Wise was Reserve Army and I was in the National Guard. I went to basic training in January of 1960. When I got back home Franny left for basic. That fall I worked for Paul Wise during part of the harvest. George was home from college. It was an interesting fall.
Another Reason to Get to Town
Several of our class were members of Luther League: Martin Schuemann, Sally Rock, Marge Lippold, and myself. There may have been others. Lonn? Ann? We also had the Woltman sisters from Walnut. We had a very good Women's basketball team. A few of us were also members of the church choir: Marty, Ron Woltman, the Woltman sisters from Walnut, Dean and Gene Mohr, Sally Rock, myself and others. Yet another excuse to get to town during the week.
Mr. Wilson Did not need a Paddle, Just the back of his hand
When we were freshmen we had seats on the south side of the auditorium (study hall). Mr. Wilson was our teacher during the period I was in study hall. He would take roll and then leave for other activities. Once he was gone, there were disruptions from some of our classmates. One day Mr. Wilson left by the front door. A few minutes later he came back in by the back door. He walked up the rows of seats and he then back-handed one classmate right out of his seat. Mr. Wilson walked to the front of the row and on the way back he knocked him out of the seat again. I figured this was a whole different ball game than my previous country school. Miss Scott would never do that.
Our class got together for an ice skating party near the bridge where Jim Larson lived. I think a good time was had by all.
Prom
Our proms were attended by the junior and senior class only. No one had a date who was not a member of the classes. I think this is correct. Some of the students wanted others to attend but it was not to be.
The Tanke barber shop was west of the old Citizen's bank. Next door to the shop was the Dr. Wunder vet office. There was a little window in the wall between the two. I remember Daryl Bailey would open up the window and give instructions to Mr. Tanke. Sometimes these conversations were a little heated!
Does anyone have information about JoAnn Biery? She was in our junior class picture.
If I left anyone out of these memories I apologize. The mind is one of the first things to go. Many other memories shall remain only in the minds of those that were there. I actually liked high school and was sad to see it end.
One last memory – Lonn had a car that had to be pushed or rolled to start. That was why we had to keep it running when we went watermelon hunting at the Rold farm after senior class play practice.
JoAnne Leslie Remembers © 2017
I have many fond memories of growing up in Avoca. Sharon always said the years growing up were our Golden Years. We walked everywhere--to school in all-weather--I remember how raw our legs would get in the winter from the boots rubbing against them. The only way we could wear jeans or slacks were under our dresses and had to be taken off at school!
Creamery
Does anyone remember the Creamery--can't tell you the street names as we never used names when we were kids. Directions were given by whose house was on the corner or on that block. The Creamery dried buttermilk and I always felt sorry for the people living across the street as their yards were always white--and it had to get in their houses, too, as no one had an air conditioner then.
Fresh Alfalfa
I also remember how good the air smelled when they were cutting alfalfa --much better than after it was taken to the mill to be dried. The Steak House that you have mentioned was in the basement of Hiley's feed store. My dad had Leslie Auto in the other end of the building for years. We would sneak over and chip pieces off the salt blocks and eat it. Also. Did you know that the baby chicks came in a cardboard box via mail??? There used to be a gazebo in the court house yard and the band would play there on Saturdays during the summer. People brought chairs or blankets. I remember when the swimming pool opened--until then we had to go to Harlan for swim lessons. My dad later built the big cement brick building down the hill from the Catholic Church and added Case tractors and New Holland bailers. The building has since been a grocery store and lumber yard. We had an apartment upstairs. The phone number for the business was 39 (one ring) and the number for the apartment was 39-X (two rings). Carl Tanky was the barber, Louie fixed shoes and purses, I am glad they still have the noon and six p.m. whistles!
I think Louie's, the shoe repairman, last name was Romer. And at the Chatterbox a single ice cream cone was $.05 and a double was $.10. Movies were $.25 until you turned 10 or 12 (can't remember when it went up to $.50. Remember 'turn it up, Earl'. My sisters and I still say that when we can't hear something!
Carolyn Young Remembers© 2017
Such wonderful memories come to mind! I remember several of us girls would go to Sal's house over lunch hour and believe it or not we would ride a rocking horse! I also remember some of us going out on Halloween and turning over the outhouses. And didn't we get caught one night eating a farmer's watermelon on main street when he came driving up? Getting kicked out of English Lit class in order to plan Jeri York's going away party. The best part of our high school years for me was how close our class was and remains so today! A lot of very special memories and relationships are still in place!
Larry Krummel Remembers© 2017
Elms on Elm Street
Curbs on Highways
Iowa Girls' basketball had six players to a team (3 on offense and 3 on defense)
Vinyl records were moving to 45 or 33 from 78 RPM
Milk was delivered to your door in glass bottles
Newspapers were delivered by boys on bicycles
Banks were open 10 till 3 and never on the weekend
Ethnic Food
No pizza (fresh or frozen)

No spaghetti except Franco American canned

No Chinese

No Mexican

Bread was white

Coffee was Butter Nut in a one pound tin can

Fresh fruit was seasonal

Potato Chips were Kitty Clover
Exotic Food
Frozen Snickers at the Chatterbox

Fresh oysters in ice cream cardboard containers from Shilling.

Dad would make oyster stew with milk, butter and oysters. I loved the milk and butter with crackers and skipped the oysters.
There Were Dangers Everywhere
Microwave in Use

Margarine was Yellow to Impersonate Butter

Maybe No Malt in the Malted Milkshake

Maybe Ice Cream was not made with Cream
Highways Numbers Have Changed
This map of Avoca has two major changes relative to 1959. First, G18 was Highway 83. I assume this now means that a county crew plows snow rather than a state crew. Additionally Highway 59 was routed down Elm Street and not Walnut. The later change would have had significance for myself as we lived on Elm next to the head of the local office of the state highway crew (Harry Rasmussen). Whenever it was snowing hard, a snow plow would pick up our neighbor as it plowed Elm/Highway 59. This would wake me up and, at the same time, give me hope that school would be canceled. It rarely occurred.
Dress Codes Have Changed
Since the topic of snow has arisen, I also recall that girls were not allowed to wear slacks during school. They would wear a skirt with slacks underneath to school and then have to remove the slacks before going to the first class.
South Pacific
The movie South Pacific opened in Omaha (and across the country) in 1958. Sally, Chris, Bruce and I got tickets and went to the show. The boys wore suits and ties and the girls wore formals.
Blue Laws
It was pretty much impossible to buy anything on Sunday. There were no stores open which included gas stations. You simply did not run out of gas or have a flat tire on Sunday. Most restaurants were closed. There was a hotel in town but I never knew where they ate on Sunday. Bars were definitely closed on Sunday.
As an extension of the religious limits, it was illegal to sell liquor by the drink and only the state could sell liquor or wine (if you call Mogen David wine) by the bottle and only bars could sell beer. Grocery stores could not sell beer or wine or liquor.
Gambling of all forms was illegal. Divorce was effectively illegal. One party to the divorce had to admit to infidelity in order to get a divorce. The option was to move to Reno Nevada for 9 weeks, which established residency, and then you could get a no fault divorce.
Cruising Main
Gasoline was 30 cents a gallon. Buying a dollars' worth would allow you to cruise Main Street all night. If the car had four occupants, a quarter each was the right amount. The gas station attendant (probably a classmate) would put in the gas and clean the windows and check your oil.
Everyone knew how to change tires. There were no cell phones. If you had a flat tire and could not change it, you could wait for hours before someone came along.
Prices and Wages
Restaurant hamburger was 25 cents and a hamburger deluxe (with lettuce and tomato) was 35 cents. Federal minimum wage was one dollar an hour. A few years after graduation it was raised to $1.25 per hour. Blue Jeans were Five Dollars each. A shot of whiskey in a bar was a quarter but it was illegal in Iowa. In San Francisco the same shot was seventy five cents. It was what my dad remembered about San Francisco.
Hinz Grocery
Hinz grocery would let you call in an order and they would bag your groceries and all you had to do was pickup. They also would run a tab. This was a time when credit cards were for gas. If you lived in town, they would deliver.
Nothing came pre-packaged. Meat would be cut and wrapped in very wide brown butcher paper and then tied with string. Much of the food came in big barrels (pickle barrels). The food was swept by a breeze from big fans to keep the flies off. There was no air conditioning for the store. The walls had shelving very high and library ladders were used to retrieve the goods. The concept of everything at eye level for impulse buying did not exist.
Berthusen Hardware
Berthusen hardware store had a display of living room furniture and a TV in the front window. When my family still lived on the farm, my mother and father would go to the pub next door to Berthusen's and I would sit and watch television (we did not have our own until like 1953) with all the old farmers and homeless until the stores closed on Saturday night at 9:00. I was the only young person and did not get to change channels (there were 3) and hence watched a lot of fake wrestling.
Berthusen also had a tube tester for use with radio and TV tubes. More than once I would take all the tubes from a TV into the store and test each one to see what was failing. The great fear was that they all passed and it was the TV tube itself which meant no TV until Dad felt the need to pay the huge money for a TV tube replacement.
Louie Roemer Shoe Repair
Or what it was like before the Fractional Horsepower Electric Motor
Louie Roemer had a shoe repair shop in Avoca Iowa in the 1950's and he did not have any fractional horsepower electric motors. He had one big electric motor and belts and pulleys attached to the drive shaft from that single motor. Along the drive shaft were cutters and polishers and sewing machines each of which had a pulley and a flat belt to the main drive shaft. The speed of the device was controlled by moving the drive belt to different size pulleys. A big pulley on the main drive shaft with a small pulley on the device would run it fast. The opposite would run it slower. The main drive was running all day long and only the device in use was connected by belt to the shaft to put it use. The shop was small and dark and filled with Louie's pipe smoke. I would just sit there for hours watching the belts and pulleys and cutting and polishing and sewing. The world, at least the US, had moved on and most devices had fractional horsepower motors. This meant each machine had its own power but not in Louie Roemer's shop and, before 1900, everything was like Louie Roemer's shop.
You tube of line shaft
https://www.youtube.com/watch?v=lJLB_BlOIRc
https://www.youtube.com/watch?v=Nc8LXlNuh8s
Avoca Alfalfa Milling Company
The Avoca Alfalfa Mill would grind alfalfa, dry it and make alfalfa meal for stock animal feed. During the season, the plant would run 24 hours a day. Normally when baling hay, the hay would have to be dried in the field but, since it was dried at the mill, it could come in with ground moisture. Only a good rain would stop the process. In the field, the tractors and trucks worked all night with their headlights on. It was somewhat earie to see them working at night when generally, the farm areas after dark, were totally quiet and totally dark.
The mill needed employees to sack the meal, sew up the bags and then move them to storage. The meal was in 100 pound burlap sacks and when running full bore, it was pretty exhausting work. The shifts were 12 hours each and after two weeks, a Sunday day shift was skipped so the day and night crews could be exchanged. If there was little rain and the equipment did not break, the overtime pay was very nice. It seemed like there was less than we all expected.
Doc and I worked there and I think Lonn as well. The plant manager was Lee Johnson's father, Lee being in the class behind us.
Krummel's Tavern
My original intent was not to cover this merchant in detail since I was closely associated. However, in thinking about it, I was the only classmate that had a huge amount of bar experience during high school. Not only did I clean floors and windows and glasses, I keep the books and handled various other issues. Please skip the rest if you feel it is not appropriate.
Dad's bar was visited by a wide range of economically diverse individuals. Avoca did not have a racially diverse population but it did have economic diversity. I have long felt that most racism is not ethnic in its beginnings but rather economic. In writing this, I realize why I feel this way, Dad's bar had many of the social characteristics of a diverse population but they were all ethnically the same. And enough of that.
I will guess that none of the girls in this class were ever in Krummel's Tavern and that few of the boys were. Let me review some of the physical and operational attributes that stand out in my mind.
Competitive Advantage 1—Air Conditioning
The building was, and is, old. It was the high ceiling design found on main street Avoca with hammered Tin ceilings. The floor was wood and so dilapidated that running a mop over it would tear the mop up badly, the mops had to be replaced on a regular basis. Let me rephrase that, they should have been replaced on a regular basis but in reality they were not. Dad installed a five ton Frigidaire Air Conditioner in the back. The main unit was inside and huge. It was free standing and over 7 feet high, 6 feet wide and 2 feet wide. Installing air conditioning in a bar was a real competitive advantage in the 1950's and only an expert in bars, as was my dad, would realize this.
Competitive Advantage 2—Dad Gave Away a Free Lunch
One of my favorite expressions is "He could screw up a free lunch." Well my dad gave away free lunches and definitely did not screw them up.
There was a livestock auction every other Friday in Avoca. The farmers from all around would come to town for the auction. Some even went to the auction but many just needed an excuse to go to town. Dad used the occasion to set up a free lunch of ring sausage from the Cold Storage plant with beer cheese and crackers from Hinz grocery. The sausage was made every Friday and was lose packed and cooked. I loved it, I wish I knew the recipe. It was great. The lunch table was set up towards the back of the bar and the place would be packed. After school, it was not unusual for me to have to go down to Shillings and buy more sausage. There were no restrictions on who got a free lunch. Dad would have so much business, on this day that he would hire temporary bartenders from the patrons and they would be from anywhere as long as they were available.
Cold Storage in the Basement
In the basement was a cold storage room of maybe 15' x 15'. This is where the beer kegs were kept. Dad was the largest seller of Pabst Blue Ribbon beer in Western Iowa. New kegs had to be tapped frequently but on the weekend, this was another of my tasks. A keg in this case is 15 gallons and 120 pounds. We used a hand truck to move them around but it was still a lot like handling baled hay on the farm. The room was also full of cases of beer that were nice and cold and ready to drink. Counting inventory was also part of bookkeeping.
At Ames, it was verboten to sell alcohol within a mile of campus unless the facility predated the university. And there was one such store that had a walk in cooler with an in only door on one end and the outgoing door had the checkout clerks. We would not buy Pabst because it was too expensive (brand name and all) and instead bought Grain Belt or Fox Head 400, both sold for less than the price of Coke.
A Cigar Lighter with Kick
Just as you came in the door to Krummel's Tavern, there was a class topped display case containing cigars and cigarettes. On top was a very large Cigar/Cigarette lighter. Coming up from the box at the base was a brass tube that had lighter fluid in it. You would grab this and pull it toward you and this would cause a contact spark to shoot out of the top brass tube and light the fluid. The whole mechanism used a Model A coil to cause the spark, a really serious spark if I may say so, and this in turn used the old dry cell battery to power. One of my Sunday jobs was keeping this guy running.
National Cash Register
The cash register was an old brass NCR. NCR did not sell cash registers but only leased them and just as importantly serviced them. These were very intricate mechanical marvels. It would keep track of different kinds of sales and then print it out on the paper tape. My job on Sunday was to balance out the Cash Register, i.e. to see how close the cash/checks on hand matched what was rung up. As noted, there were many part time bartenders and the balancing is where I became aware of the concept of "First Order Approximation". I also had to record bad checks and correlate the checking account. This was before credit cards, it was either cash or check.
Banking Services
As noted before, banks were not open after 3 and there was no such thing as an ATM. Dad, and the other bars, served as a cash service for the locals. Most of the checks were cashed and cleared but there was a certain amount that did not and others that Dad did not submit because it was truly a loan. For such checks, Dad would often take Collateral. The safe had pistols, knives, brass knuckles, black jacks (heavy lead filled leather sacks) and the more mundane items such as watches and jewelry that were of no interest to a teenage boy. I did not do the taxes so I do not know how the losses from the loans were accounted for.
The safe itself was big enough to pose a threat to the pretty old wood floor. Under the wheels of the safe were nice new 2x4's to keep the safe from going into the basement.
Sunday Cleaning/Sunday Services
The bar would not be cleaned up on Saturday night and it was my job to remove all the glasses and ash trays from the tables and bar and wash everything. Even the clean glasses from the night before were all re-washed. The back door was typically open during this time to air things out. It was pretty common for a certain group of farm dads to drive the kids to Sunday school and then, park in the back alley, and proceed to communion at Krummel's Tavern. There were almost always enough for a poker game as well.
The State of Iowa Kept Track of your Drinking Habits
All hard liquor and wine in Iowa was only sold at a state owned liquor store. In addition, once you were 21, you would get a state issued liquor book to record all of the purchases you made at a state owned liquor store. It was illegal to sell liquor by the drink. So if you are inclined to do this, how do you purchase the liquor without the state seeing these huge purchases? It was possible to go across state line and buy liquor in Omaha. However this was a high risk because if you are caught, you had not paid Iowa liquor taxes and that is a nasty group to deal with. In my dad's case, he would pay some of the economically deprived to buy cases of Seagram's Seven. It would be on their book and not his.
As an aside, there was no vodka or gin or wine. It was bourbon, period.
Beware of New Technology or Pop Top Cans are Dangerous
Dad did sell a variety of beers in the bottle or can. This was also before Pop Top cans and a "Church Key" (look it up) was required to open a can. Franny and I were in a bar in Harlan or Minden, and certainly not Avoca, soon after graduation. It was summer time and there were clouds and lightening and clearly we would not be able to get into the fields the next day so we may have had a few extra beers. The bartender comes over and says I want to show you something new. It was a pop top can. The beer was not our brand but this was seriously cool, the end of the church key was insight. Knowing full well that we should not have to work the next day, we proceed to pretty much open, and drink, his whole supply of pop tops. The first pop tops had a nasty sharp edge on the inside and it made little slices in your thumb. So we both had bloody thumbs but did not notice. Worse it did not rain and we were in the bean field the next day lying under the bean plants looking for shade and Franny's brother George was just laughing at us.
School Days
A small school like AvoHa needed a high rate of participation to fill in the spots in all the extra-curricular activities. Some of those stories.
Things I was Really Bad at Doing—not intended to be Exhaustive
There are two areas that I participated, and for which I had no aptitude. Those two would be Vocal and Instrumental Music. I played the baritone saxophone in band because I was big enough to carry a baritone sax in the marching band. I never learned the fingering for sharps and flats, they seemed extraneous to me. Now it is also true that I have a high frequency hearing loss and do not hear high notes. I do not hear dog whistles or boatswains' whistles. In Amsterdam the streets are full of bicycles with little bells on them. This is another sound I do not hear and they will run you down. So I should not have been playing baritone sax but it is really just a drum and provides a beat.
Vocal music was where I was really bad and should have never been allowed to participate but in a small school, they have to take what is available. Since it is hard to really cover my lack of skill in this area, I will provide a couple of stories that show the general flavor of Vocal Music at AvoHa.
Paddling is the Effective Way to Correct Student Misbehavior
Mixed Chorus classes were held in the music room in the new building that also held elementary school classes. Upstairs was the music room and down stairs was where shop class was held. For our junior year, we had a new vocal music teacher who was literally fresh out of college and probably was 22. In the classroom, there were boys who were 19. It was a combustible combination. The classroom was new but the seating was old wood veneer theatre seating on risers. It was generally an uncontrolled situation and the teacher was frequently crying by the time class was over. The boys would talk and throw spit balls and paper airplanes. It was pretty much chaos. And then it got worse, the seats were old and the veneer could be stripped off in 12 inch long pieces. Each piece of veneer was very flexible and could be flung across the whole room. And they were. The teacher ran out of the room crying and found Mr. Beasley to comfort her and to discipline the boys. Mr. Beasley was the girls' basketball coach and the assistant football coach so he was known to all. The shop was downstairs and there Mr. Wilson had produced special aerodynamic paddles just for such an occasion.
Mr. Beasley had the boy's line up starting with the seniors and I am pretty sure that Curly Woltman was first. Now Mr. Wilson had been principal long enough to know that paddling can be hard work so he had air holes drilled in the paddle to reduce the wind resistance. Mr. Beasley must have hit Curly at least 10 and maybe 15 times and Curly smiled throughout. The same process was used on an additional 5 or 6 boys, all seniors and it was clear that Mr. Beasley was exhausted. He then announced that we knew what would happen to us if this ever happened again. Meaning of course, nothing would happen.
It Could Get Worse and It Did
Senior year, the boys glee district competition was the day after the prom. The boys were supposed to be in suits and ties early in the morning for a long bus ride to Shenandoah or someplace like that. A few (maybe many) of the senior boys were still recovering from the night before. It may be appropriate to say that they had not finished the night before and were being dressed by friends in front of the Chatterbox café. A delivery man stopped (you could still get milk delivered) and could not believe we were getting dressed to go somewhere and not to bed. The group was escorted to the bus and the teacher was literally in shock. She tried to comb our hair and tied our ties but it really did not help much. We had not slept in 24 hours and it kind of showed. When we got to the district venue, it was being held in the basement of a church and there was a long ramp down from outside and no stairs. Some of us, who normally would have been in the back row, more or less rolled into the front row. More importantly, we could not sing. In my case, that was an improvement but to the judges it wasn't what they wanted to see. I believe that the grading system was 1, 2, 3 from best to least. We got a 4 or a 5. In retrospect, for the teacher, it must have been very embarrassing in front of her peers. For the boys it was just another school day.
Damn Ducks
Before we moved to town, dad would plant watermelons in the corn rows next to the road. This allowed the land to have two uses since the watermelon would be ripe before the corn. Planting next to the road also meant that there was no need for an access in the corn field because the road allowed access to pick the watermelon.
We lived about 7 miles southwest of Avoca on a dirt road. There was only one farm beyond us whose occupants would frequent Avoca since further on, the farmers went into Shelby. There would be one car on the road but rarely two and never three. And of course this was during the daytime, at night more than one car meant an emergency of some kind. In that case, mom would pick up the phone and listen on the party line to see what was going on. I remember one night a neighbor's barn burned because of spontaneous combustion but that is not this story.
So one fall night, not one but multiple cars came down the road and then stopped. Dad apparently knew the pattern and picked up his 12 gauge shotgun and walked down to the end of our lane in his night shirt. This was a long walk but pretty soon dad is blazing away at the corn field. Almost immediately the cars start up and race away. The next morning we went down to the watermelon patch and confirmed there were no bodies but there were lots of tattered clothing hanging on the barb wire fence.
Years later a group of 1959 classmates (boys and girls) were cruising around and decided it was time for watermelon. West of Avoca on the bottom road (first road south on 83 west) lived one of the Rock boys. We knew he had watermelon close to the road. There were at least two cars and maybe three. From past experience, we drove by and turned around and came in from the South since the farm yard was north of the melons. The assigned crew climbed through the fence and started up the corn rows north toward the farm yard. The ground was damp but not muddy. The soil was rich and black since it was Nishnabotna bottom land. We were in sleuth mode but the Rocks had ducks and the damn ducks started yammering. The pole light in the farm yard went on and the buckshot started pinging the corn leaves. The cars left, of course, and there were three of us flat down in the good bottom soil of Iowa. Clearly standing up was not a good idea. After a while the shooting stopped, the pole light was turned off and we continued to the watermelon and each of us got one. We then went back to the road and waited in the ditch in the hope that someone would return. They did. We met up with the other two cars at the fair grounds and had fresh watermelon by moonlight. Damn Ducks.
Comments
Many of the really good stories cannot be told because neither Franny nor Doc are here to tell them.
Federal Minimum wage in 1956-1962 was $1.00/hour. It may have just applied to men, which seems fair.
Working at the Iowa State Liquor store was a patronage job and depended on the party of the elected governor. My dad was very aware of the workers at the store. Fortunately for my dad, Hazel's dad was a neighbor. The other party used Daryl Baily for this job.
I recall a wedding at the Presbyterian Church and a Volkswagen Bug was moved from the street and positioned snuggly between two trees. It took 6 guys to put it in place and then after the wedding, they left. Never did know how it was removed but it is no longer there.
Others stories have been excluded because of time and space such as:
Bathroom surprise at Offutt NCO quarters for Avoca Troop 97

Ground Observer Corps

Night Watchman Abandons His Car after Horrific Dismemberment of Car on Elm St
We Live in Different Worlds—California and Iowa (I like both)
Main Highway in California is called Freeway

Main Highway in Iowa is called Interstate

Entering the Freeway California: accelerate to speed of flowing traffic and merge

Enter the Interstate Iowa: stop and wait for an opening.

VC in California is a Venture Capitalist and generally a good thing.

VC in Iowa is Viet Cong and generally a bad thing.

Caucasians in California are a minority

Caucasians in Iowa are a majority

Abalone is great in California

Chicken Fried Steak is great in Iowa
But then there is Montana
It is permitted to salvage road kill if you did not hit the animal.
Drivers turning left off of a two lane road will often drive down the road on the left side so that anyone behind them can pass. Works if there is never any oncoming traffic that you cannot see. Scares the hell out of me.
Invitation
During the summer months we live on Flathead Lake in Montana about forty miles from Glacier National Park. Martin is the only classmate who has stopped by and we were not there. He did have a nice conversation with my mother-in-law. For anyone who wants to stop by, we will be happy to take you to dinner and depending, on our then current occupancy, even provide you a bed. The restaurants in Bigfork range from traditional (Chicken Fried Steak) to Italian (excellent Osco Buco) to Mexican traditional. There is also an International class restaurant that would be Michelin rated if Michelin got to Bigfork. The traditional bars have great beers (Pigs Ass Porter is one of my favorites) and even deep fried cheese balls with burgers and fries. You know this is a serious place when they have signs excluding horses (No Horses Allowed) and similar signs for dogs. They do keep out the horses but not so much the dogs. Montana has a restaurant cleanliness agency that provides ratings for the tourist. Apparently dogs present gets you a B and horses gets a C. We are willing to go to any of the three.
Glacier Park now has a free bus service to take you over Going to the Sun Highway. This road winds through the park and is often on the edge of a two to three thousand foot drop. Before the bus service, it was not uncommon for the Rangers to have to drive someone's car because they had frozen at the wheel. Even with us driving, we have had guests who would get down on the floor of the back seat and not look out the window.
###