Henley Regatta - 1991
Forewarned is Forearmed
After a business meeting, I mentioned to the company attorney that we were taking the family to Europe and planned the trip during a time when we could go to the Henley Regatta. My attorney said that he had done exactly the same thing the year before and I needed some instructions. Being from California, and going to a summer sporting event, his family dressed in California standard: shorts, sandals and polio shirts. When they got on the train to Henley, it appeared that most of the passengers were not going to a sporting event because the women had sun bonnets, long summer dresses and even high heels (but wide bottom). The men all had ties, sports jackets and chino pants with Oxford shoes.
When they got to Henley, it turns out that this is where everyone was going. The dress code is strictly enforced in most of the viewing areas but they were able to get into a tourist section.
So, when we went, we knew the rules and Marian and the girls were in Sun Bonnets and long summer dresses. I wore a blue blazer and blue and yellow tie. Normally the better viewing areas are for members only. However, since we were Americans and since we had the colors of the Cal Berkeley rowing crew, we were allowed access to one of the better viewing areas.
Marian and I settled in and had lawn chairs, in the shade, up the river bank, but Sarah and Suzanne sat close to the water's edge on the grass. They were just up the bank from a path that went from one viewing area to another all the way down the river. The London School of Economics crew had just won its race and came down the path. They saw our girls sitting, all by themselves, and sat down and surrounded them. They crew could see that they were properly dressed and pretty but then they found out they were Americans. They stayed for a half hour and our girls were a little concerned.
Picture from Website on Dresscode
https://www.standard.co.uk/fashion/henley-regatta-2018-dress-code-a3878701.html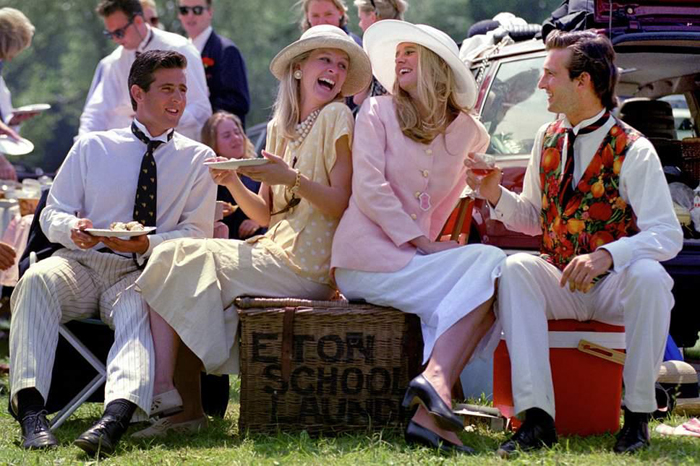 Enclosure Entrance Lapel Tag

String goes through lapel buttonhole or is used to attach to dress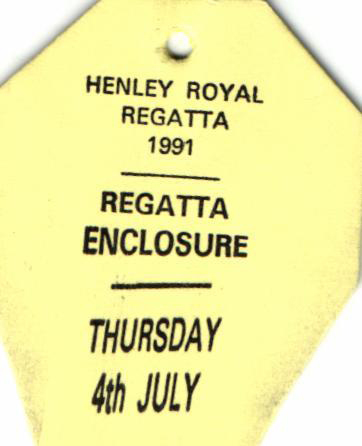 English Translation or Barkly is not Berkeley
Berkeley is English, Barclay is Scottish, and Barkley is Northern Irish, but all three variations are pronounced identically (BARK-lee). The American pronunciation of Berkeley, California is non-standard, and would not be accepted in England, Scotland, or Northern Ireland.
Henley on Thames is a Small Town
Henley is a small town of maybe 10,000 people. The Regatta is 30 to 50 thousand. There are foods in the viewing enclaves but we (I) wanted to try the local pub food.
Small British Pubs do not have a kitchen. The food is generally cooked at the owner's home and brought to the pub in big serving tubs. The choices are limited: beef stew, chicken stew, lamb stew or fish. Usually a given pub will only have 2 of the choices. It was an experience.
University of Washington Crew
Sarah went to the University of Washington and was on the Freshman crew. Sarah also had her graduation party at the Washington Pocock Rowing Museum. If you saw or read "Boys in the Boat", it was about the UW crew in 1936.